Taxi with Child Car Seats
Travelling with your child can be a little hectic but we are here to make things less stressful. At Aeroport Taxi & Limousine Service, safety and quality is a top priority to all our clients especially the little ones. We have offered exceptional transport services to families in Toronto. Our selection of taxis is perfect for transporting your entire family to and from your destination safely and comfortably.
We have children safety car seats available in our minivans, SUVs and other types of cars. All you need is to ask for the child seat when making your booking. We promise to provide a safe and world-class service. No need to postpone your travel plans because you're concerned about your baby or any extra luggage that you will have to carry around. We will provide you with just the right car with a child seat at no additional cost.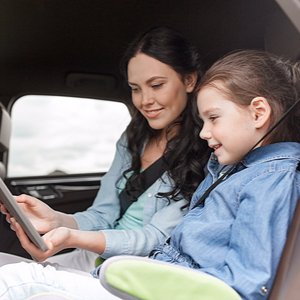 Why choose our family friendly transport service?
At Aeroport Taxi & Limousine Service families love travelling with us because we offer:
Forward facing car seats for infants, toddlers and older children Ages 1 to 4
Friendly service
Well trained and professional drivers
Wide range of cars to choose from
Discounted flat rates
Out of town services
As a baby car seat taxi operator, we take every step to promote safe baby travel simply by making sure you get a suitable car seat for your child. We have infant seats that are rear-facing, We are committed to child safety when travelling anywhere in Ontario. All our car seats are designed to comply with the Canadian standards. Our car seat taxi or limo service follows the Canadian laws of child safety and transportation.
We have clean and well maintained car seats. We ensure all our car seats are properly sanitized before use. You can book our taxi service with confidence that your baby is safe during the commute because we offer a personal touch. Be rest assured that we will leave you happy and satisfied because we value our image.
At our company, we really care about the kind of products we offer our customers. We always strive to give clients something extra. Whether it's a friendly driver who will be there to meet and greet you or an amazing discount on the service you book, we'll be happy to offer you something special. For 45 years now, we have been the reliable taxi service for families in Ontario. You can trust us to provide the best child safety seats in every type of limo, SUV or van that we send out for a client.
With Aeroport Taxi & Limousine Service baby car seat service, you can travel anywhere in Ontario without stress. We also offer car seat for non-airport or out of town travels. Wherever you want to go, get in touch with us to discuss your options. We will be happy to assist.